If you purchase engine software, you will receive a 50% discount on gearbox software. The tuning is tailor-made car specific. These prices include multiple runs on the dyno and a power printout before & after. Before starting the tuning, the car undergoes a so-called check-up, which checks whether the car is healthy. You will also receive photos/videos of the runs.
This table is only a fraction of our offer, if your car is not listed or you need help please get in touch.
For separate power measurements on the 4x4 dyno bench and a check-up, we charge €199 incl. VAT.
STAGE 1: Software only
STAGE 2: Downpipe + air intake etc.
STAGE 3: Upgrade turbo
STAGE 4: Forged engine
Please indicate which type of car it concerns
HOW DOES CHIPTUNING WORK?
Chiptuning involves replacing the original engine and/or gearbox software on the ECU (Electronic Control Unit) with optimised software to improve power, torque & fuel consumption.
We read the original software from the ECU or remove the ECU from the car (varies per car). We store this software in our database, a version for optimisation and a version as a backup. This means the car can always be brought back to its original state. The programmer then goes to work on the optimisation on the dyno. The modified software version is then written back into the ECU and the power printout is printed out. Finally, a test drive is made to assess whether everything is satisfactory.
CUSTOM SOFTWARE ADAPTED TO YOUR ENGINE
With us, the software for your car is created based on live log data from your engine.
Measuring you car is done while driving on the 4x4 dyno, temperature, charge pressure, fuel ratio, power, torque everything is visualised on the roller bench (dyno).
Before tuning, we do a comprehensive check of the engine's health through live log data on the dyno. After adjusting the parameters correctly, the live log data is recorded again to check whether the parameters are correct. The printout shows the performance achieved across the rev range as a graph.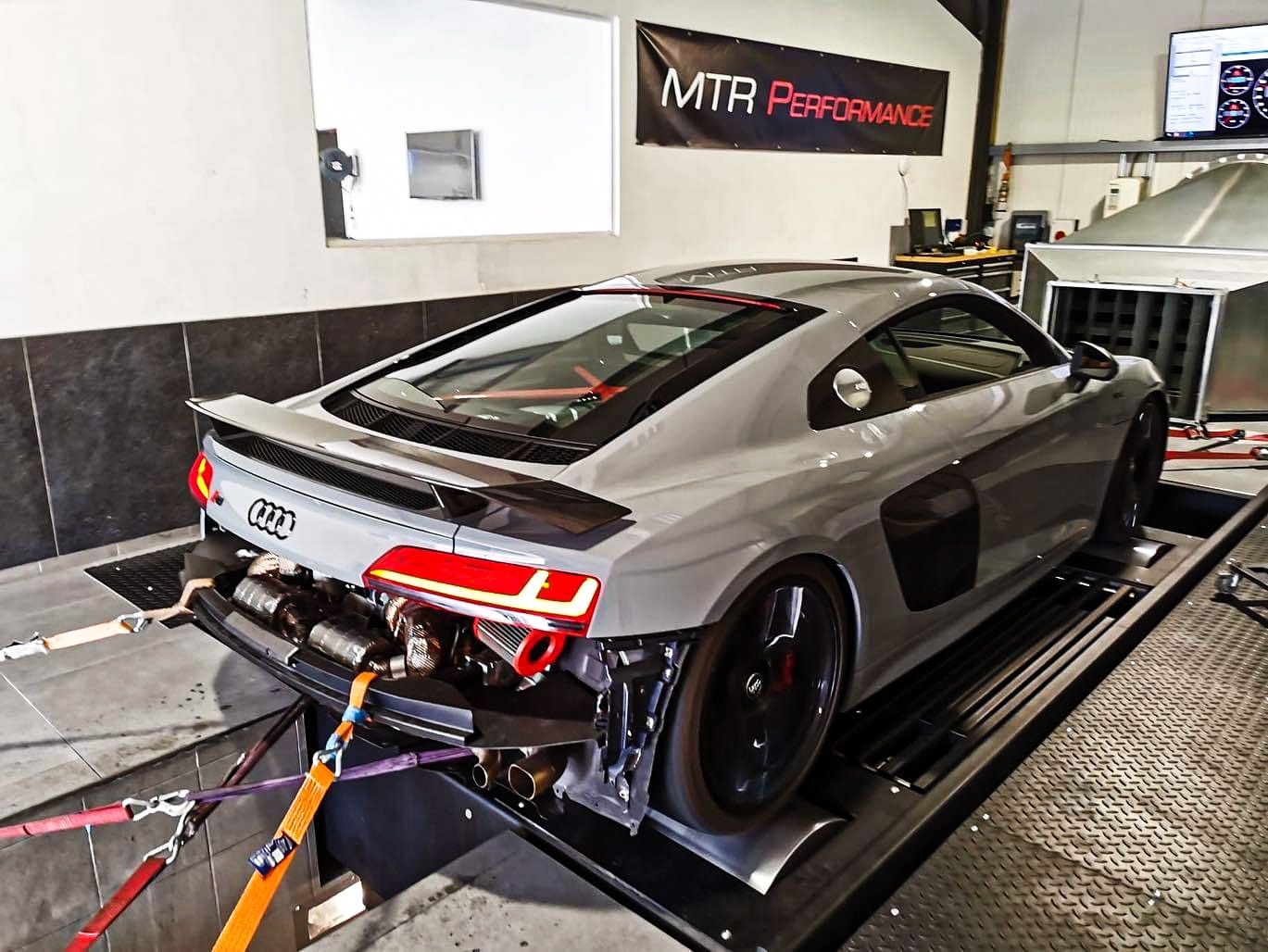 VARIOUS STAGES
Of course, we are also familiar with cars fitted with upgrades such as air intake, exhaust, intercooler, turbo, fuel pumps, built engine etc.
When a car has no further hardware modifications we speak of a STAGE 1 chiptuning. When a car is fitted with an upgrade downpipe + air intake this falls under STAGE 2 chiptuning. One step further is upgrading the turbo this falls under STAGE 3. This way, there is a clear distinction in how far the customer wants to go with his car, discover the possibilities!
CONTACT DETAILS
Ambachtsweg 13
3161GL Rhoon
Netherlands
Email: info@mtr-performance.nl Whatsapp: +31 (0)6 149 541 38 Instagram: @mtr_performance_nl
Also for car parts you are at the right place, MTR Performance NL is part of AKA Performance B.V. We are official dealer of different brands like Armytrix, Eventuri, Milltek Sport, RacingLine, TTE, Wagner Tuning, Cobra Suspension, Eibach, KW, Maxton Design, RECARO, Brembo, NGK etc. Please feel free to contact us with your requirements.